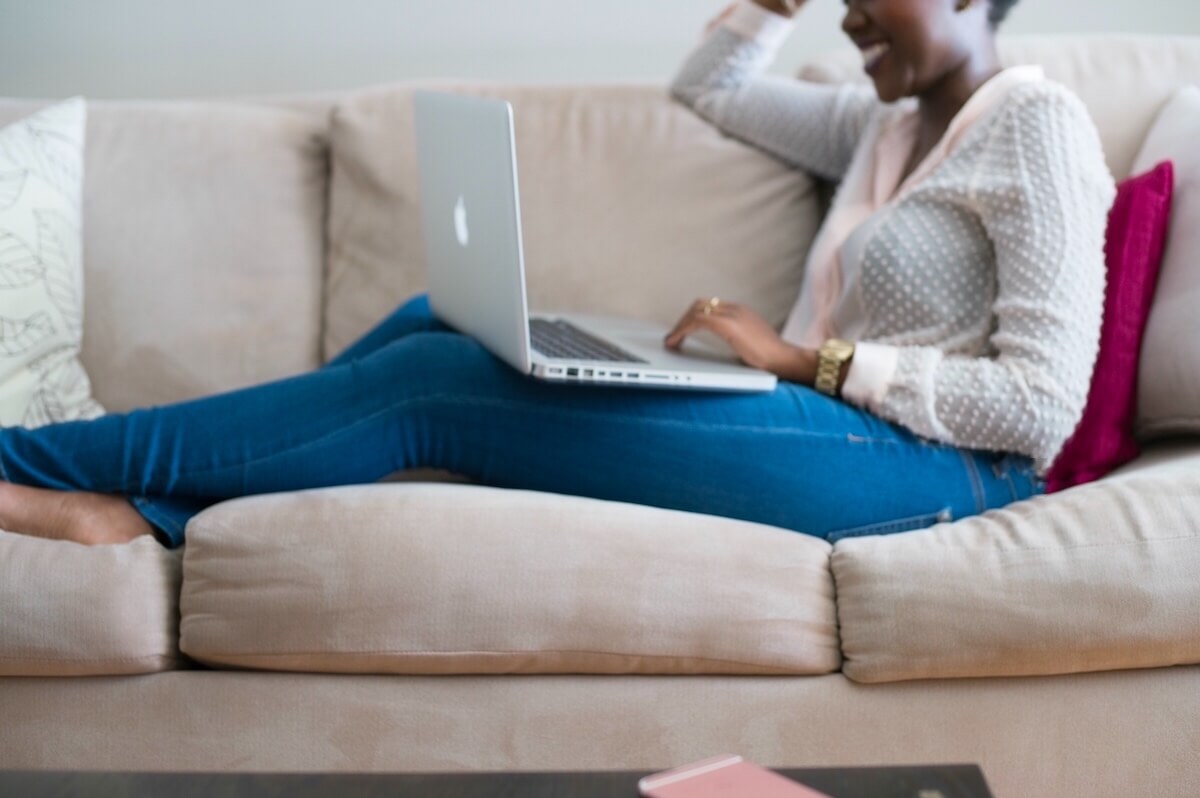 HOW TO SET UP RICH PINS ON WORDPRESS, SQUARESPACE & SHOPIFY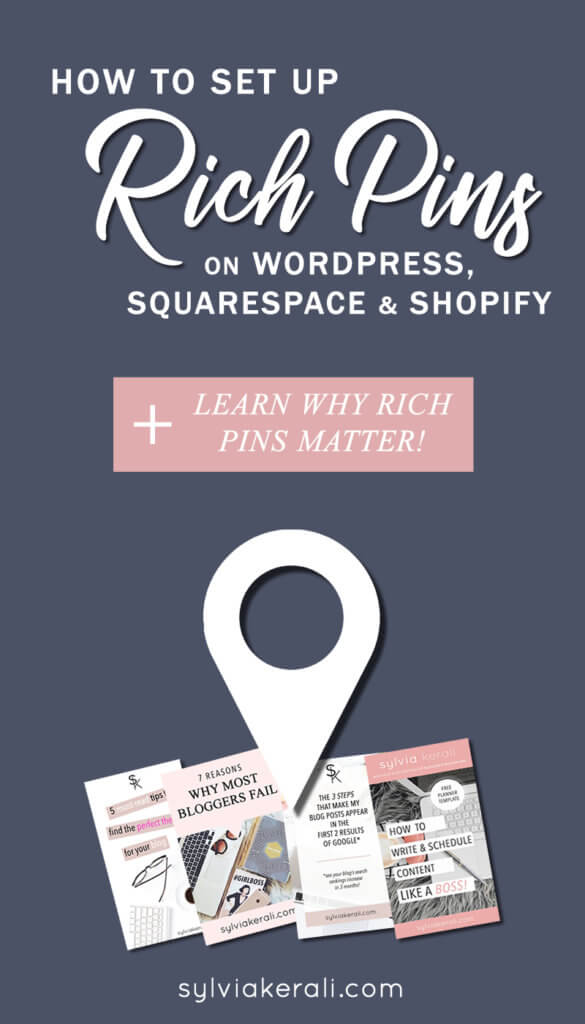 Enabling Rich Pins on YOUR site is essential to ensuring your blog, brand or business gets the attribution it deserves for each pin pinned on Pinterest. Rich Pins are enhanced with metadata (extra details and pieces of information – see example screen shot below) situated right under the pin.
Below I'll show you how to add rich pins to WordPress, Squarespace and Shopify. Make sure you have a Pinterest Business account before you begin.
Currently, there are four types of rich pins: article, product, recipe, and app.
• Article rich pins provide post titles and descriptions.
• Product rich pins give information about a product's price, availability, and where to buy.
• Recipe rich pins show ingredients, serving sizes, and more.
• App rich pins include an install button to instantly download an app right from Pinterest.
Most of us will probably have our posts show as "article" rich pins on Pinterest. You can only pick one type, so choose the one that's most appropriate.
Why You Should Use Rich Pins?
Higher Visibility. Rich Pins can help you with Search Engine Optimization (SEO) within Pinterest. Since Rich Pins contain lots of extra information they can be indexed and found more easily in searches. This ultimately makes your pins more visible to more people.
Branding. Rich pins display your favicon (brand logo) and business name (with a link back to your site). Your logo will appear on all your pins which can help distinguish your blog, brand, or business.
Convenience. Rich Pins automatically update information anytime there's a change on your site. For example, if you reduce the price of a product or change an ingredient in your recipe post, that information will automatically update on your Rich Pins on Pinterest.
Adding Metadata to the Content on Your Site
First, in order for rich pins to work, you need to ensure that all the content on your site that you wish to pin has metadata associated with it (mostly blog posts or product pages). This isn't as difficult or technical as it sounds!
Second, you need to validate that you have set everything up correctly using Pinterest's Rich Pins Validator but more on this later.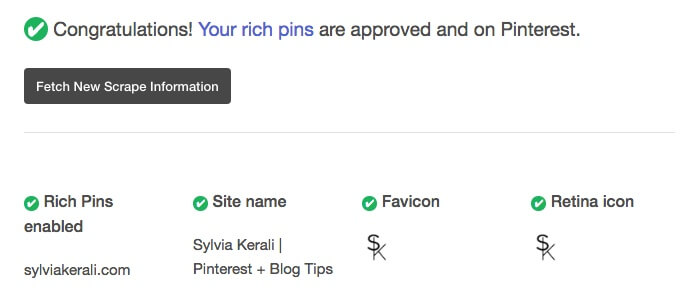 Setting Up Rich Pins For WordPress
Thanks to Yoast plugin, setting up rich pins on WordPress is easy. You'll need to install the Yoast SEO plugin (it's a great plugin to use for SEO purposes too). Follow the steps below!
1. Install the Yoast SEO Plugin. To do this, navigate to your Dashboard > Plugins > Add New > Search for "Yoast SEO" > Install the Yoast SEO plugin > Activate the plugin.
2. After you activate the plugin, go to your WordPress Dashboard > SEO and configure the plugin's settings using the "Yoast SEO for WordPress installation wizard". Once you follow the steps and set everything up, you should be good to go!
3. Now head over to the Rich Pins Validator and enter a link to one of your blog posts or pages (don't use your homepage link) into the "Enter a valid URL" box. Then click "Validate".
4. You'll find out immediately if your blog is successful. That's it!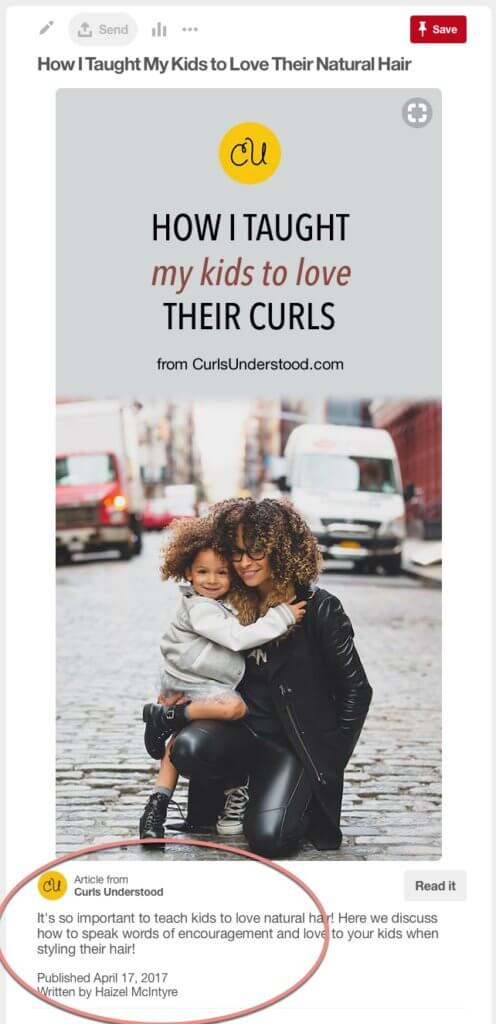 Setting Up Rich Pins For Squarespace
If your site has a custom domain, follow these steps to enable Rich Pins:
1. Visit your site while logged out or in an Incognito window.
2. Open any blog post or product item page.
3. Copy the web address for that page.
4. In a new browser tab, go to Pinterest's Rich Pins Validator and paste the URL into the "Enter a valid URL" box.
5. Click "Validate".
6. A confirmation message will appear.
7. Some domains require an extra step. If you're prompted to, check HTML Tags, and then click Apply.
NOTE: You don't need to add Rich Pins to Squarespace's built-in domains, i.e. yoursiteid.squarespace.com. Rich Pins are enabled automatically for these sites. Only follow the steps above if you have a custom domain, i.e. myblogname.com.
Setting Up Rich Pins For Shopify
1. Go to a specific product URL on your Shopify site (this is a page that has a "Buy" or "add to bag" button).
2. Copy and paste this product URL into the Rich Pins Validator and type .oembed to the end of your product URL.
3. Click "Validate".
4. After the preview appears, click "Apply".
5. You will see your product Pins become Rich in 24 hours
NOTE: You only need to apply once using a single product URL from your website.
So there you have it! Now you're able to pin knowing your pins will perform well on Pinterest and always attributed to you. Let me know if you have any questions in the comment section below.
Active and aspiring bloggers join my private mastermind group on Facebook for daily tips, articles and support from fellow bloggers/influencers!