2018 ULTIMATE SEO TIPS FOR NEW BLOGGERS (3 STEP PROCESS)
Blogging without using SEO tactics is like fishing without a pole. You may catch a few fish using your hands but it will take infinitely longer. Why not up your chances of "catching fish" (having your content found) by using these SEO tactics consistently. In a previous blog post I talk about the 7 Reasons Why Most Bloggers Fail and ignoring the importance of SEO topped my list. Below I have a comprehensive beginners guide – ultimate seo tips for new bloggers!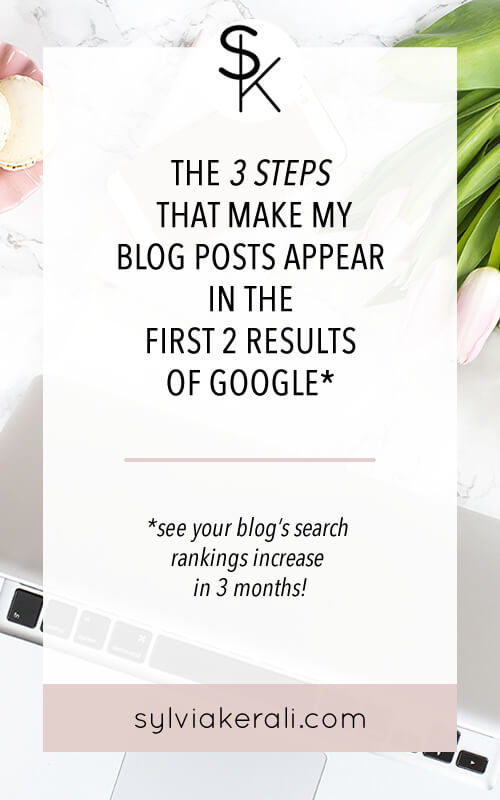 Before starting it might be a good idea to explain exactly what SEO is. SEO (Search Engine Optimization) is a marketing tactic focused on growing your blog's visibility in organic (i.e. non-paid) search engine results like Google, Yahoo and Bing. SEO focuses on both the technical and creative elements of generating the content required to improve rankings, drive traffic, and increase awareness in search engines. There are many aspects to SEO, from the words on your page to the number of other sites linking back to your blog.
While it's key to create search-friendly content, your blog posts should still be easy to read and provide value to your followers. The more people enjoy reading your content, the more likely they are to come back to your blog and/or link to it from their sites and social.
SEO isn't hard to implement but it's important to note that it takes time to build your site's search engine rankings. This is the long game! With good SEO tactics you can start to see your site's page rankings improve in 3 months.
Here are the 3 steps you need to use religiously to ensure your content is SEO friendly content:
1. Install an SEO plugin
2. Research Keyword Phrases
3. Write SEO Friendly Blog Posts
These are my REAL search results for my blog CurlsUnderstood.com! I'm going to walk through I had got this blog post to the first page step-by-step below…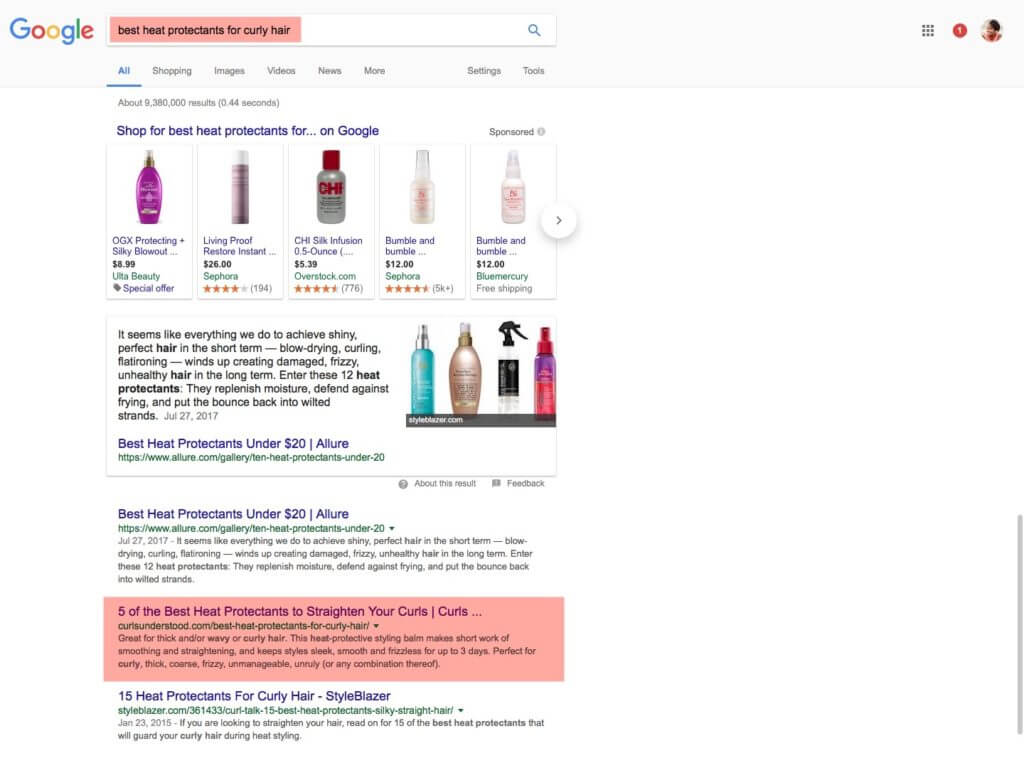 1. Install an SEO Plugin
I use the Yoast SEO plugin for both this blog and my CurlsUnderstood.com site. It's made specially for WordPress and works like a charm! Just head to Plugins > Add New and search for "Yoast SEO". Install and activate the plugin and you should be able see at the bottom of each post draft the Yoast SEO plugin's fields. We'll discuss what they do later.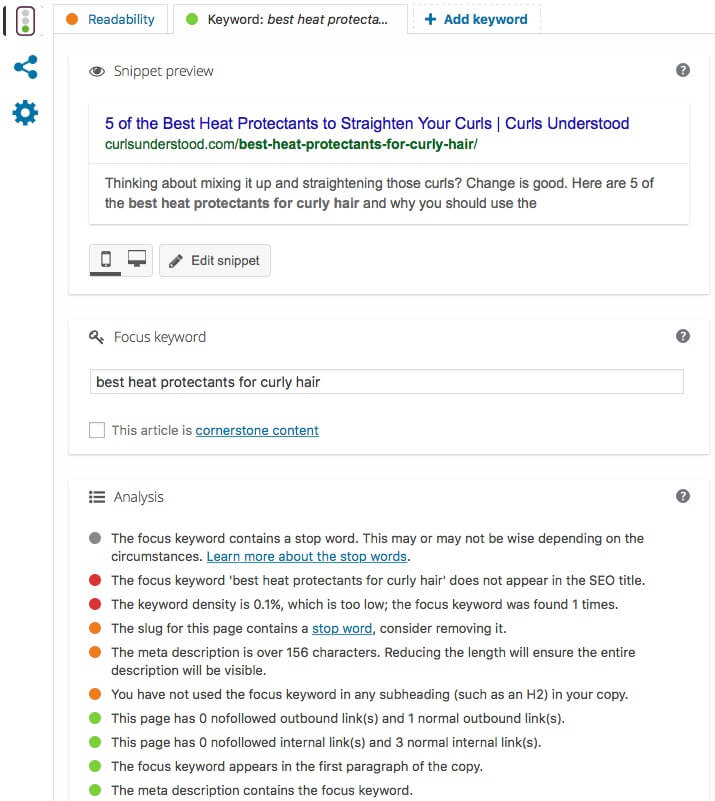 2. Research Keyword Phrases
If you read my previous post on How to Develop, Write and Schedule Blog Posts you'd know that I use Google Analytics data and Pinterest to determine a preliminary list of topics I want to write that week.
So here's a real life example using my first blog CurlsUnderstood.com to demonstrate. CurlsUnderstood.com receives over 200K+ page views per month and growing. I built the blog whilst working full time so you can do it too!
I looked at Google Analytics to see what are the most popular blogs are on my blog (navigate to Behavior > Site Content > All Pages and then select the time range to cover the last 3 months). I saw that topics surrounding hair product suggestions do consistently well so I though up so topics I had yet to cover, or new angles to write about topics I have already covered. If you don't have enough data in Google Analytics or your blog doesn't have much traffic, just use Pinterest to search topics and see how often certain pins have been repinned to determine topic popularity.
I decided to write about finding the best products for protecting curly hair when flat ironing and blow outs. The topic seemed popular on Pinterest after spending only a few of minutes searching. Then I went to Google and started typing phrases I would look for if I needed help in this area.
Then I use Google's predictive search feature to understand what popular keywords my potential readers might search for. As you type keywords and/or keyword phrases in Google, it will start to suggest other phrases that others have searched for. These are highly popular searches so pay attention to them (also pay attention to sponsored ads a the top of search rankings ;). I then pick a keyword phrase to base my post on.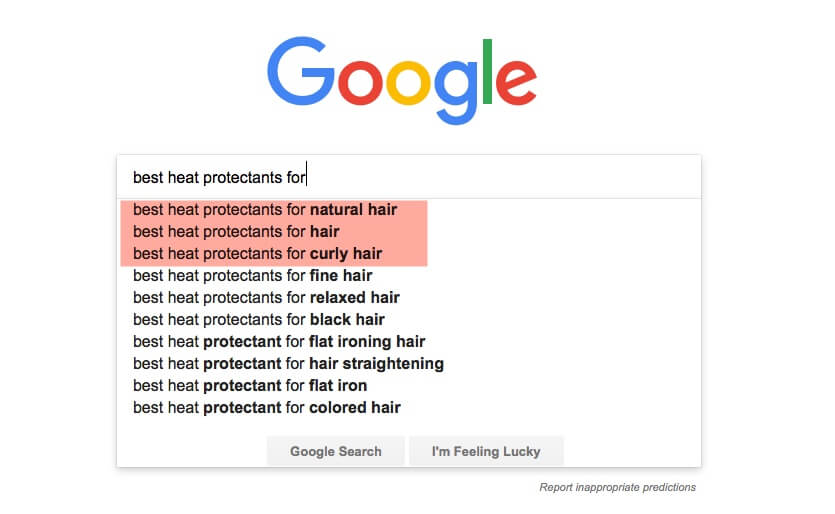 In this example I chose the keyword phrase:
best heat protectants for curly hair
This phrase will be the core of my content creation!
For more advance keyword research tactics you could invest in tools/sites like Moz Keyword Explorer, SEMrush, Market Samurai or Google AdWords.
3. Write SEO Friendly Blog Posts
This isn't as hard as it sounds. There are certain elements you need to be cognizant of when creating your blog posts and the Yoast SEO plugin "grades" you as you do it but these 7 points will make your content SEO friendly regardless of whether you yous use the plugin or not.
Make sure your keyword phrase is included in the blog post's link
Write at least 300 words (1000 words is even better!)
Make sure keyword phrase is in the first paragraph
Use H tags within your blog post
Add a meta description including your keyword phrase
Use the keyword phrase in your image's file name
Link to other relevant content on your site
Make sure your keyword phrase is included in your blog post's link.
In my example my keyword phrase is best heat protectants for curly hair so accordingly I edited my blog post's URL to http://curlsunderstood.com/best-heat-protectants-for-curly-hair. WordPress will automatically take whatever you use as your blog's title and make it into a link for you but you should edit this to include just your keyword phrase…

Make sure you use all lower case letters, that you separate each word with a hyphen (-) and that it isn't too long (you can omit small words like "the", "or", "and" etc.).
Write at least 300 words (1000 words is even better!)
This speaks for itself! Your content shouldn't be too short and if it's around 1000 words even better as search engines love verbose content.
Make sure keyword phrase is in the first paragraph
Split your content into paragraphs of 3-5 sentences. Make sure you first paragraph has the keyword phrase included (or at least the main keywords in that phrase). Here is mine:
Thinking about mixing it up and straightening those curls? Change is good but you'll want to play it safe as too much heat will damage your curl pattern and leave those dreaded and random straight strands all over your head. Even if you're a seasoned straight natural who gets regularly blow outs, you may want to try different heat protectants as our hair tends to get used to the same products and thus the product becomes less effective. Here are five of the best heat protectants for curly hair and why you should use them.
Use H tags within your blog post
Visually, H tags make certain text appear bigger and bolder making them perfect to use for subheadings within your blog post. However, H tags do more than make your content look for organized and appealing. H tags, when used correctly, are an important SEO tactic. They rank from 1-6 with 1 being the largest. Make sure that at least one of your H tags includes your keywords.

Below is how you add H tags to your headings and sub-headings in WordPress…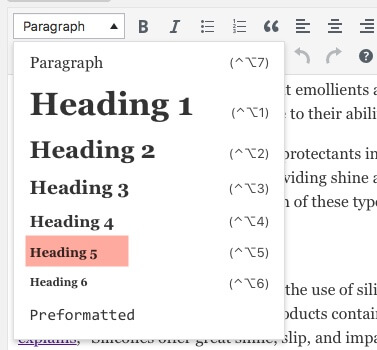 Headings (heading tags) help Google to grasp the main topics of a long post. Google scans your post regularly so why not make that as easy as possible for Google and other search engines to understand your content?
Add a meta description including your keyword phrase
The Yoast SEO plugin is great for this! It allows you to easily edit the blog post's meta description. This shows up in Google, Bing and Yahoo. It should be succinct, catchy and include you keywords/keyword phrase.
Use the keyword phrase in your image's file name
Whenever I pick the image I want to use for my blog post, I always name it is using my keyword phrase. In this example I named the image file: curls-understood-best-heat-protectants-for-curly-hair-1.jpg. You should also use the "Alt Text" field when uploading the image. Put the keyword phrase there with no spaces.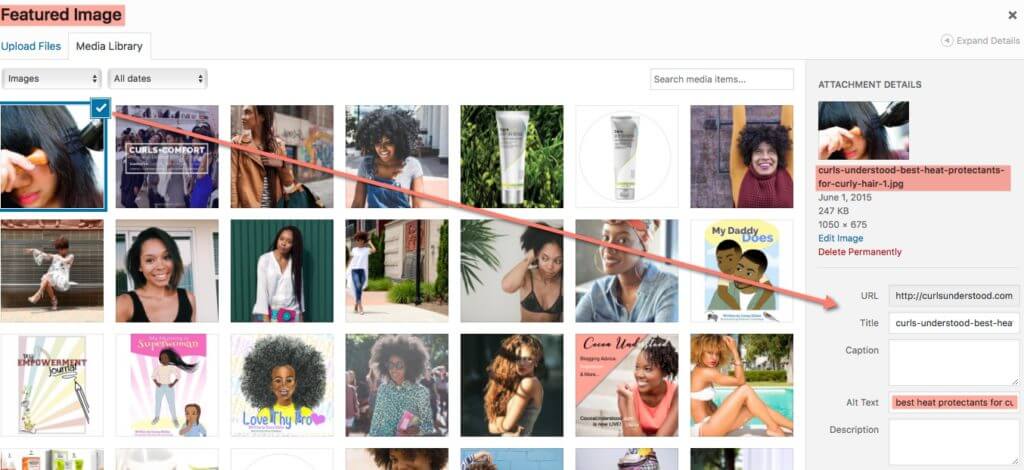 Link to other relevant content on your site
If you've already written content on similar topics or you reference a previous article, don't forget to link to these posts. It will make your post stronger because you show search engines that you have some authority on the subject you blog about. And of course, your reader might be interested in these related posts too making them more likely to come back again and again!
And there you have it! Adding content regularly to your blog will give Google the impression that your site is relevant, fresh and authoritative. If it's not an active website, Google will crawl it less often. This may affect your rankings negatively so be sure to research and write strategic posts on useful topics regularly.
Active and aspiring bloggers join my private mastermind group on Facebook for daily tips, articles and support from fellow bloggers/influencers!